The Official Glass Worm Appreciation Page
by Cliff Pickover, Reality Carnival


The mysterious image shown at left was taken by the Mars Orbiter Camera onboard the Mars Global Surveyor. Take a close look. It resembles a glass-like structure, almost like a tube. It looks segmented, like an earthworm.

These "beasts" are 50 meters across and kilometers long.

Arthur C. Clarke said: "I'm still waiting for an explanation of that extraordinary glass worm on... [Mars]... How big is it? It's one of the most incredible images that's ever come from space and there have been no [official] comments on it whatsoever!"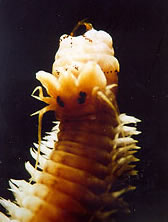 You can learn more about the Glass Worm at these sites:

Return to Reality Carnival.

If you like stories like this, Reality Carnival has many more.