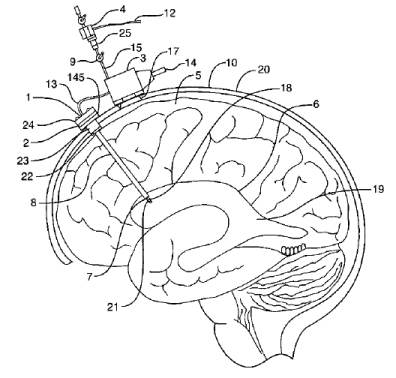 [Source: "Method and Device for Reducing Secondary Brain Injury" (U.S. Patent No. 6,929,656; 2006)]

[Source: "Pattern Recognition Utilizing A Nano-technology-based Neural Network" (U.S. Patent No. 7,107,252; 2006)]
Heaven Virus in the news
---
Special for all twitter users: click here for "Spirits of the Dead will Twitter from the Afterlife by 2075."
---

I thrust The Heaven Virus book through a software book crusher that digested the book in seconds and spat out every word in the book, according to how often the word occurs.
Synthetic Heavens and Electric Dreams
From one of the most original voices in imaginative nonfiction comes a stunning novel of suspense and speculation--as an ordinary New Yorker uncovers the mystery of the afterlife and finds himself in a desperate search for immortality and the existence of the human soul. Come along for the journey with acclaimed science writer Cliff Pickover as he explores the borderlands of science in a novel inspired by virtual universes making headlines today. The Heaven Virus is the hammer that shatters the ice of our unconscious, offering readers a glimpse of ultimate spiritual technologies for the 22nd century and a mystic encounter in an age of electronic gods.

Downloading our minds to computers--to experience our afterlives and God in a chip!
---
The Sweet Crunch of Sensuous Androids
Exploring the vast realm of the afterlife, we encounter sex-starved holograms, taxidermic nightmares, robotic spiders, deadly blowfish, Braconid wasps, Tibetan Bön-po monks, a Biblical bronze snake, Emanuel Swedenborg, psychedelic jelly-roll nudibranchs, chrome cannibals, translinguistic cattle, and Kurt Vonnegut, Fyodor Dostoevsky, and Thomas Pynchon in the guise of dragonflies.
---
The Second Lives of Electric Sheep
The Heaven Virus blends tragedy, humor, psychedelia, sex, fear, and hope in an unforgettable meditation on the outer limits of our culture, evolutionary destiny, death, and inner space. The Heaven Virus will not only draw science-fiction fans, but also those who have wondered about their own passage from this existence into the world to come.

The Heaven Virus is mentioned at the end of this New York Times article.
---
Cliff Pickover--futurist, explorer, and dreamer--has dozens of patents and is the author of forty books on science, mathematics, art, and religion. He received his Ph.D. from Yale University. His website, Pickover.com, has received several million visits.
---