Body Worlds Exhibition
by Cliff Pickover, Reality Carnival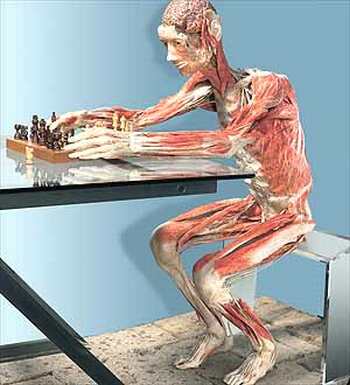 Human Corpse Playing Chess
This technique was invented by the exhibition's creator, Professor Gunther von Hagens. Plastination lends a high degree of rigidity to the tissue, enabling bodies to be displayed in upright, lifelike poses.
All the bodies belonged to people who authorised the use of their bodies after their deaths for the educational benefit of medical professionals and non-professionals alike.
The specimens are preserved by plastination - an impregnational technique carried out in a vacuum where the body tissue is saturated with special plastics.
More information and images at these sites:
Reference 1
Reference 2

Return to Reality Carnival.

If you like stories like this, Reality Carnival has many more.