Curiosites and Mini-Biographies in
The Mathematics Devotional
Isaac Newton, Carl F. Gauss, Leonhard Euler, Bernhard Riemann, Henri Poincare, Joseph-Louis Lagrange, David Hilbert, Gottfried W. Leibniz, Alexandre Grothendieck, Pierre de Fermat, Niels Abel, Evariste Galois, John von Neumann, Karl W. T. Weierstrass, Rene Descartes, Peter G. L. Dirichlet, Srinivasa Ramanujan, Carl G. J. Jacobi, Augustin Cauchy, Hermann K. H. Weyl, Eudoxus of Cnidus, Georg Cantor, Arthur Cayley, Emma Noether, Leonardo "Fibonacci," Charles Hermite, William R. Hamilton, Kurt Godel, Richard Dedekind, Pierre-Simon Laplace, Blaise Pascal, Felix Christian Klein, Jean le Rond d'Alembert, Elie Cartan, Gaspard Monge, Godfrey H. Hardy, Andrey N. Kolmogorov, Jacques Hadamard, Jacob Bernoulli, Carl Ludwig Siegel, Hermann G. Grassmann, Joseph Liouville, Julius Plucker, F.E.J. Emile Borel, Joseph Fourier, Stefan Banach, Ferdinand Eisenstein, and more...

I have intentionally listed many delicious curiosities in this section to intrigue you, and that intrigue me personally, such as these: the Minkowski fractal question-mark function (or the slippery devil's fractal staircase), Cayley's mousetrap, the Polya urn model, the Hairy Ball Theorem, Godel's slingshot, Arnold's cat map, Sophomore's Dream, the Smale horseshoe, Grothendieck's mysterious functor, the Kovalevskaya Top, and more. Hopefully, these very brief treatments will serve as a launchpad for further exploration.
For the Joy of Learning
Other Illustrated Books by Pickover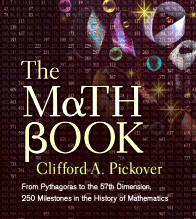 "My primary interest is finding new ways to continually expand creativity by melding art, science, mathematics and other seemingly disparate areas of human endeavor.
I seek not only to expand the mind, but to shatter it."