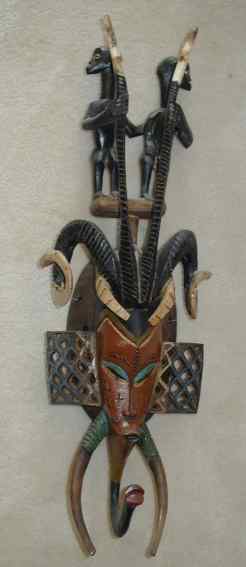 Senufo Mask
From the collection of Cliff Pickover.
Photo copyright Cliff Pickover.
The Senufo are an artistic people
who live along the northernmost border
of the Ivory Coast
in western, sub-saharan Africa.
Through the ages, masks have varied in appearance and function. Many masks are still associated with religious ceremonies or are concerned with spirits of the dead, fertility rites, or curing sickness. Other masks are used on festive occasions to portray mythological events.

Masks representing harmful spirits were often used to keep a required balance of power. This type of mask was often associated with secret societies, especially in Africa, which has the greatest variety of masks on Earth!

Masks have also be used to discipline women, children, and criminals. For example, in Africa, a mother might paint a scary face on the bottom of a water gourd to make sure the child followed her directions. Along the Guinea coast of West Africa, many realistic masks represent ancestors; the masks symbolize sanction control when worn. The Dan and Ngere tribes of Liberia and Ivory Coast use ancestor masks as intermediaries for the transmission of petitions or offerings of respect to the gods.

The mask picture at the very bottom of this page is from the Masai Tribe in Kenya, Africa. They smear themselves with chalk from a sacred cliff to perform ritual dances. The stylized patterns proclaim bravery in killing lions or enemy warriors. This inspired the creation of carved, black, contour lines with white outlined eyes and lips. The spiral on the chin symbolizes life's journey to the center or self. The mask is made of terra cotta clay and glaze.